Acura B1 Maintenance Minder Service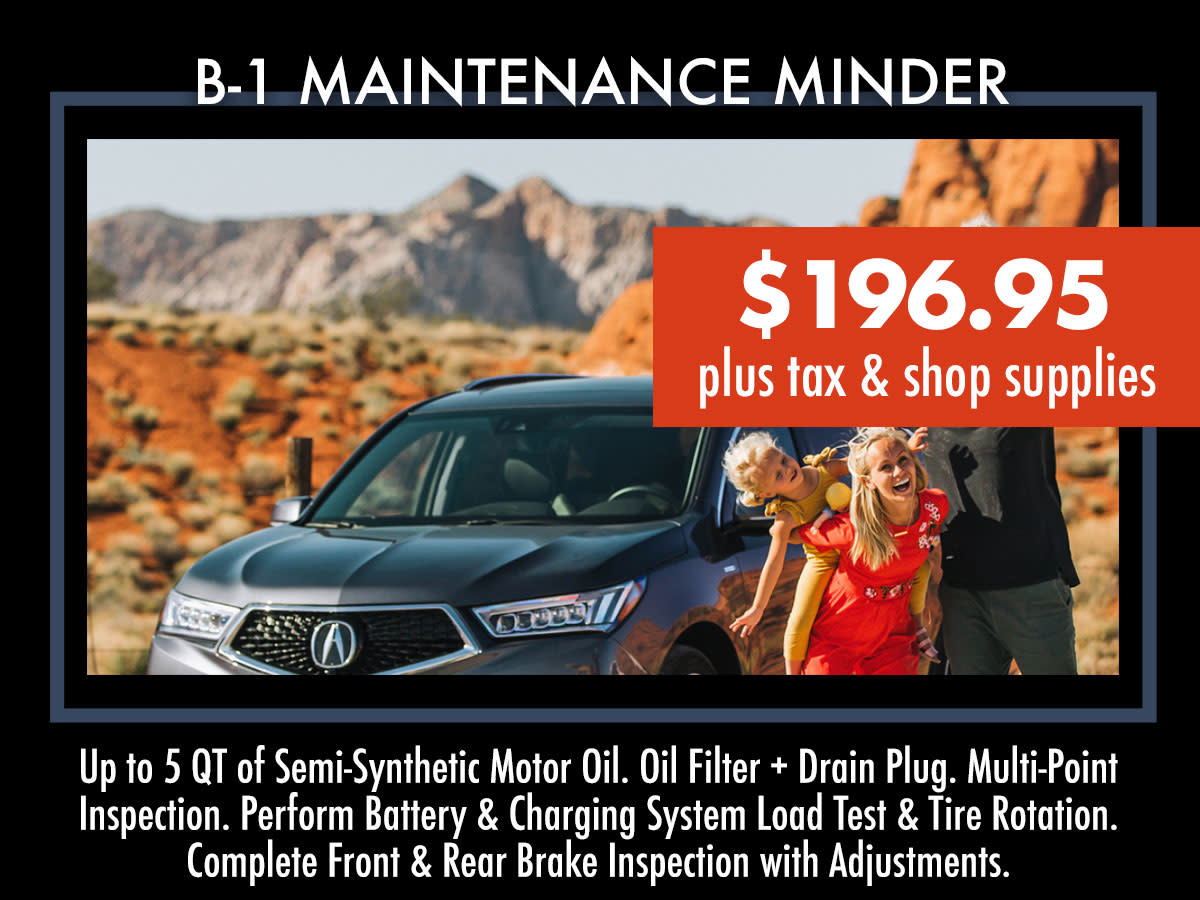 Acura B-1 Maintenance Minder
The B in this Maintenance Minder code represents a mechanical inspection and oil and filter change. The "1" in B-1 represents that it's time for the vehicle's tires to be rotated. B-1 service also targets the brake system for inspection and repairs as needed. When you need to have B-1 service, you should expect a comprehensive Multi-Point Inspection that covers all of the following systems and parts:
- Inspection of all fuel lines and connections
- Inspection of the exhaust system
- Inspect all fluids (brake, coolant, transmission)
- Inspect braking system (hoses, lines, antilock brakes & stability assist)
- Inspection of driveshaft boots
- Inspect suspension parts, tie-rods & steering gearbox
Oil
The B-1 Maintenance Minder code also includes Oil Change Service. If you have synthetic or conventional oil, we only recommend using genuine Acura approved engine oils for your premier vehicle. Don't risk ignoring this important service protocol because it is one of the best ways to protect our engine by keeping it lubricated and cool on hot summer days.
Multi-Port Electronic Fuel Injection MPI
Multi-Point Fuel Injection is able to inject fuel into the intake ports just beyond every cylinder's intake valve rather than at a centralized point in the intake manifold. This innovation has many benefits including better fuel mileage but the system is complex and difficult for the average mechanic to service. Our team of Acura certified technicians has cutting-edge training and access to specialized computer technologies to make sure that your air-fuel mix is optimized and delivered exactly where it is needed at just the right time, making your engine burn fuel as efficiently as possible.
Battery Inspection
B-1 service also includes a battery inspection and replacement as necessary. An Acura certified technician will test your battery's voltage to make sure it is sending a strong charge to the starter. Since batteries wear out over time, battery inspection and replacement are important so that you don't get left stranded with a faulty battery.
Schedule A-1 Maintenance Service
If you see the B-1 Maintenance Minder Service code, it is time to schedule Acura B-1 Maintenance Minder Service. Schedule an appointment today at McGrath Acura of Morton Grove to have one of our Acura certified technicians replace your oil and filter, complete a thorough Multi-Point Inspection, inspect your brakes, and inspect and replace your battery as needed.
Acura of Morton Grove Service Hours
847-470-2309
| | |
| --- | --- |
| Monday | 7:00 am - 7:00 pm |
| Tuesday | 7:00 am - 7:00 pm |
| Wednesday | 7:00 am - 7:00 pm |
| Thursday | 7:00 am - 7:00 pm |
| Friday | 7:00 am - 7:00 pm |
| Saturday | 7:00 am - 5:00 pm |
| Sunday | Closed |
Complimentary Multipoint Inspection w/any Service
Car Wash With Any Service
Loaner Vehicles Available
Express Service Department
Shuttle Service
Free WiFi
Snacks
Coffee / Beverages
Children's Play Area
Charging Station
Work Stations
Magazines & Newspapers