Acura A1 Maintenance Minder Service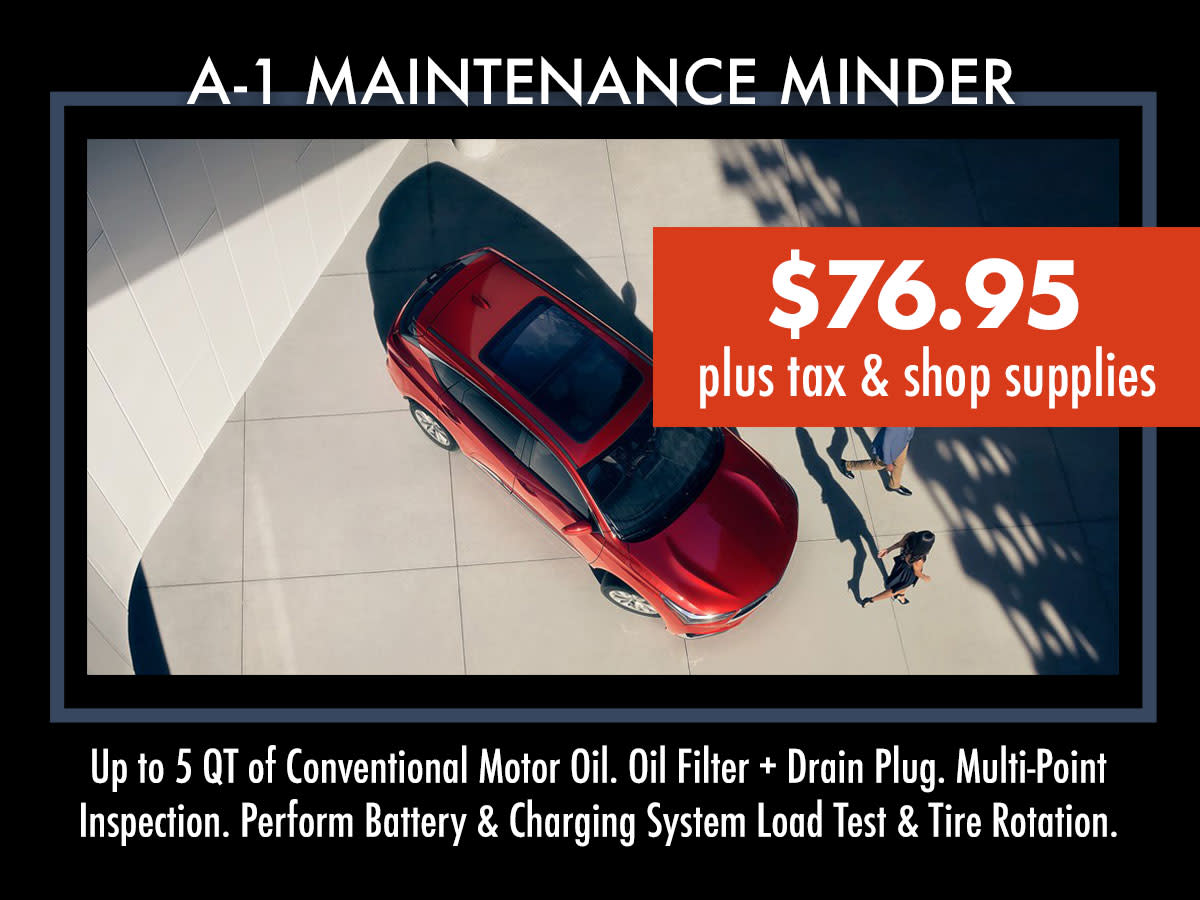 Acura A-1 Maintenance Minder
At McGrath Acura of Morton Grove, our Acura certified technicians know that remembering and keeping up with ongoing maintenance services can be challenging. That is why Acura innovated a maintenance reminder technology that tells owners exactly what they need to maintain and when. The Maintenance Minder system will tell drivers what maintenance item is due on the driver's display. One of the most common maintenance reminders is Acura A-1 Service. A-1 is the actual code that displays showing that it is time to replace oil, MPI, and complete a battery inspection.
Oil
Regardless of the oil that you choose for your Acura luxury sedan or SUV, the oil will break down and require replacement at regular service intervals. The "A" in "A-1" stands for an oil change that needs to happen. If the A turns into a B, then it is time for the oil filter to be replaced as well. If your Acura vehicle is displaying the A-1 code, that means an oil change is needed.
The 1 in A-1 Maintenance Minder
The "1" in the A-1 Maintenance Minder is focused on your tires. 1 means that you need to have your tires inspected and rotated. When this code is shown on the Maintenance Minder, your vehicle has traveled a distance that requires tire service. For this, we have a Acura certified technician inspect and rotate wheels as needed to prolong the useful life of your tires, saving you hundreds of dollars in tire costs over the life of your Acura luxury sedan or SUV.
Multi-Port Electronic Fuel Injection PI
The Multi-Port Electronic Fuel Injection system is a cutting-edge innovation that controls the air-fuel mixture entering the combustion chamber. Every A-1 Maintenance Minder Service includes a thorough inspection of your MPI system. The only way to complete this regular maintenance is with a certified technician with access to computerized equipment. Any deviation from factory performance will be detected with this service and adjusted by a Honda certified technician to ensure the optimal air-fuel mix is entering your engine.
Battery Inspection
Every A-1 Maintenance Minder Service includes a battery inspection and replacement as needed. An Acura certified technician will test your battery to make sure it is providing a good, strong current to the starter. Any problems with the battery will be corrected so that you don't risk getting stranded with a faulty battery.
Schedule A-1 Maintenance Service
If you have an A-1 Maintenance Minder Service code on your dashboard, it is time to schedule service.
Schedule an appointment
today at McGrath Acura of Morton Grove to have one of our Acura certified technicians complete your Acura A-1 Maintenance Minder Service.
Complimentary Multipoint Inspection w/any Service
Car Wash With Any Service
Loaner Vehicles Available
Express Service Department
Shuttle Service
Free WiFi
Snacks
Coffee / Beverages
Children's Play Area
Charging Station
Work Stations
Magazines & Newspapers